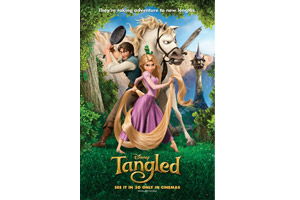 When the kingdom's most wanted — and most charming — bandit Flynn Rider (Zachary Levi) hides out in a mysterious tower, he's taken hostage by Rapunzel (Mandy Moore), a beautiful and feisty tower-bound teen with 70 feet of magical, golden hair. Due to some strange events during her mother's pregnancy, this amazingly long blonde hair has magical healing powers.
But it turns out to be a curse when a vain witch (Donna Murphy) captures her and locks her in a tower, so that she may use Rapunzel's magical hair to live forever.
Flynn's curious captor, who is just 18 and is looking for her ticket out of the tower where she's been locked away for years, strikes a deal with the handsome thief and the unlikely duo sets off on an action-packed escapade, complete with a super-cop horse, an over-protective chameleon and a gruff gang of pub thugs. Flynn is encouraged to help Rapunzel see the outside world: where she might just find out a little more about her past, and her future.
"Tangled" is a story of adventure, heart, humour and hair — lots of hair.
The 50th animated feature film from Disney is a return to the fairytales which have been so successful for them in the past. But this time, it's an amazing 3D experience with a strong female lead which has also proved to be a popular combination.
The story combines coming-of-age, romance and adventure, and Rapunzel is the perfect heroin for young audiences, on her voyage of discovery.