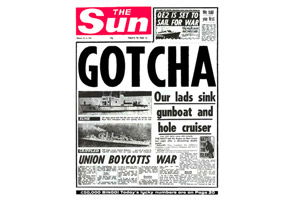 IN May 1982 Spanish police probably altered the course of the Falklands War after stumbling on Argentinean plans to blow up British warships in Gibraltar harbour. A recently reissued documentary, directed by Jesus Mora, refutes Sunday Times claims that the French intelligence service alerted Britain to the plot.
"It was sheer coincidence. We were looking for a gang of Argentineans, common criminals who stole the La Paz hospital payroll," explained a now-retired chief inspector from Malaga.
The chief inspector and his officers had been after the gang for weeks and were tipped off by a hire-car firm about some Argentineans who paid in dollars and renewed their contract each week.
They were asked to bring in their cars for servicing but the two men who turned up on May 11 were not the payroll robbers.
They were an Argentinean naval captain, Hector Rosales, and a former Montonero guerrilla named Latorre who had put patriotism before political leanings.
A search of their belongings revealed false passports and counterfeit travellers' cheques but the men explained that they were not who the police were looking for.
"You've got it wrong, we're part of an Argentinean commando on a military operation in Gibraltar," Rosales said. "And I'm the Pope," retorted the chief inspector.
Their story proved to be true, however, after they were taken by the police to the Hotel Guadacorte in Algeciras (Cadiz) where they were staying with two other ex-Montoneros – Maximo Nicoletti and El Marciano.
Police also found an inflatable dinghy and limpet mines in readiness for the operation – prompted by the sinking of the Belgrano by the British on May 2 – which was planned for that same night.
Instead, the four Argentineans returned to Malaga with the police where they took the chief inspector and his men out for lunch.
The episode was hushed up as Spain did not want anything to hinder its application to join Nato and the four men were flown first to Madrid and then Tenerife.
By the following day they were back in Buenos Aires – and the British warships were still in Gibraltar harbour.