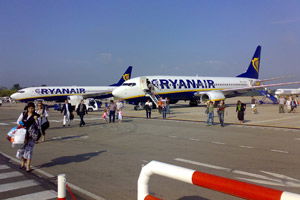 LANZAROTE – A fight which broke out on a Ryanair flight over excess baggage charges in the Canary Islands resulted in Spanish police removing some 100 people from the plane. According to reports by Spanish newspaper, La Provincia, the incident flared up when the budget airline attempted to charge a passenger extra for carry-on baggage resulting in his friends who were already onboard to start a "mutiny".
Spain's Government confirmed that police had to be called to take 100 passengers from the aircraft that was preparing to depart the island of Lanzarote for Charleroi in Belgium last weekend.
An interior ministry spokesman said the pilot was preparing for a normal take-off when she radioed the control tower requesting police assistance for an incident onboard.
He also added that, of the 168 passengers aboard the aircraft, only 64 were allowed to re-board the flight and continue their onward journey. The rest were left to find alternative carriers.
Ryanair also confirmed that the passengers "became disruptive and refused to comply with crew instructions" after a fee for "outsized luggage" was required.
Picture Credit: ~si