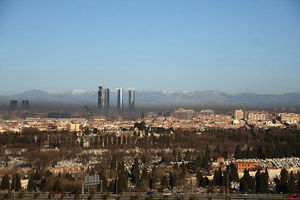 Madrid commuters are being urged to take public transport as high levels of pollution and smog are affecting the Spanish capital. The Mayor of Madrid has asked commuters to leave their cars at home and use public transport. Electronic signboards on the orbital M-30 ringroad around the city are asking drivers to use public transport.
There is a visible black cloud of smog hanging over the city which is set to continue for the next few days.
Several measuring stations are recording very high levels of nitrogen dioxide, at some stations the level of pollution has exceeded 200mg/m3.
High contamination levels are set to stay as the high pressure area will remain over the city until at least Thursday according to Juan Garcia Vicente, spokesman for the environmental group that has accused the city council of ignoring the problems.
Picture Credit: SergiooAF