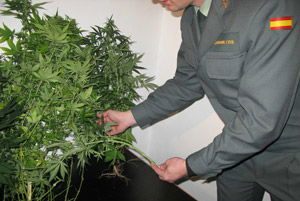 GUARDIA CIVIL and Local Police in Vicar arrested a 28-year-old man charged with a crime against public health after he was found growing three marihuana plants. They were called to the apartment block in which he lived after a fire broke out, and they had to knock down the door to check if anyone was inside.
Inside, they found a man, who claimed to live upstairs, and said he had come down when he heard a woman screaming and attempted to put out the fire.
Once the woman had been taken to a health centre and the fire had been put out with extinguishers, the officers searched the rest of the house and found three marihuana plants in an improvised greenhouse. They found they belonged to another man who lives in the house and who was working at the time.
After locating and questioning him, he was arrested.