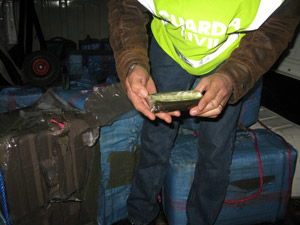 A JOINT operation between the Guardia Civil and Customs Officers has resulted in the arrest of four people charged with crimes against public health. A yacht was detected heading for the Alhamilla Beach in Balanegra suspected of carrying drugs. The first reached the beach and unloaded packages, while the second waited at sea.
The Guardia Civil then approached and seized 1,700 kilos of hashish, arresting three people. The yacht left the area but was trailed and the officers intercepted and arrested another man.
The four men, aged between 37 and 43, have been sent to prison on remand.