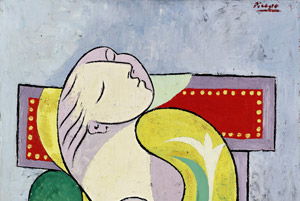 A portrait of the muse that is said to have changed the life and art of Pablo Picasso is to go under the hammer at Sotheby's in London. Called La Lecture, the portrait depicts Picasso's secret lover, Marie-Therese Walter, who at the time was 17-years-old, when Picasso then 45 introduced himself as she exited a Paris Metro station in 1927.
Because of her age and the fact that Picasso was married, their relationship was kept a secret for many years and has become one of the most compelling stories in 20th century art history.
"I was an innocent girl," she later recalled. "I knew nothing – either of life or of Picasso… I had gone to do some shopping at the Galeries Lafayette, and Picasso saw me leaving the Metro. He simply took me by the arm and said: 'I am Picasso! You and I are going to do great things together."
Until La Lecture was created, Ms Walter had only ever appeared in the Malaga artists' work in code with her features embedded in the backgrounds of his work.
But by the end of 1931, Picasso could no longer suppress the creative impulse his lover inspired and over Christmas of 1931, Marie-Therese emerged for the first time.
La Lecture was painted in 1932 and is indeed very similar to the famous La Rêve, the history and importance of which has been widely reported. In fact the two works were painted just days apart and were soon exhibited alongside each other.
Picasso's marriage to Olga Khokhlova quickly broke up after the paintings were revealed in the major Picasso retrospective Exposition Picasso in Paris and Zurich as she then knew there was another woman in his life.
Picasso and Ms Walter later had a daughter together named Maya.
The painting is expected to fetch between £12m and £18m.