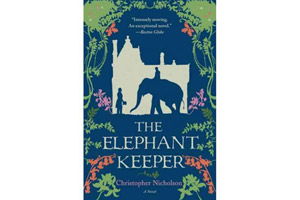 by Christopher Nicholson. In 1773 stable boy Tom Page goes with his employer, Mr. Harrington, to see two elephants unloaded at Bristol docks. Mr. Harrington buys both elephants, one male one female, and Tom's life is changed for ever. He cares for both beasts, teaching them and learning from them until the male is sold.
Tom stays to care for the female, who he secretly calls Jenny, until she too is sold, and Tom chooses to go with her, leaving his sweetheart behind. After many happy years at Lord Bidborough's estate, the lord's heir returns and creates chaos. Jenny is sold on again and again and her life and Tom's continues on a downward spiral.
This apparently simple tale, which resembles the iconic "Black Beauty", is deceptively profound. The story is recounted by Tom, and we are party to his thoughts and feelings about the elephant, that most remarkable of beasts. But the lives of other servants, their relationship to their employers and each other are vividly told.
Nicholson confronts the themes of power, violence and poverty in society during this supposed Age of Enlightenment. This book could have descended into mere sentimentality: Jenny and Tom cannot fail to touch even the hardest heart. But Nicholson's grasp of the reality of life together with an elegant writing style elevates this captivating story to a higher plane.
Book review by Meg McKenna
This book, together with around 2000 more, can be borrowed from the DENIA ENGLISH LENDING LIBRARY, Passeig del Saladar 91. Open Monday to Friday 10am – 1pm. For further information contact [email protected]