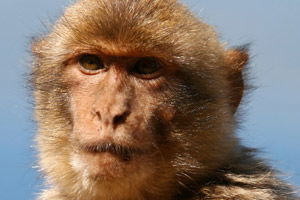 THE recession does not only affect us humans, as recent monkey business in Gibraltar shows. With fewer tourists visiting the rock due to the economic climate, the iconic Barbary Apes in Gibraltar have reportedly resorted to leaving the upper rock, where they can normally be found entertaining tourists, and descending to town in search of sweets and snacks, eye-witness reports reveal.
One British expat couple, Karen and Peter Granger, who live on the Costa del Sol but were in Gibraltar on business, were shocked to see several apes hanging out on some scaffolding on Main Street.
The incredulous couple were told by a local bobby and a shopkeeper the cheeky monkeys had somehow found out about the arrival of a busload of students on a school trip and had descended upon the town in the hope to score some sweets.
Yet Dominique Searle, Editor of the Gibraltar Chronicle told EWN that the scientific theory is the opposite because "the high number of visitors and prohibited feeding going on (eg tour guides getting them on shoulders for pics etc) the conclusion is that since the apes are no longer busy rummaging for food in the wild they wonder down considerably more often than before," he said.
In 2008 the Gibraltar authorities were forced to cull the apes after a number of them ran riot through the British Colony, terrorising tourists and causing damage, according to The Telegraph.