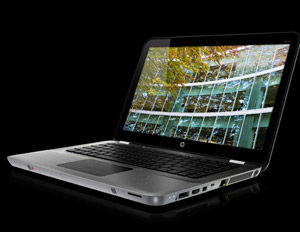 THE HP Envy 14 is the latest version of the laptop. It only has a 14-inch screen, but weighs 2.6kg; probably because of the classy machined aluminium exterior. It only has 215 minutes of battery life, but is packed with goodies. The ATi Mobility Radeon 5650 graphics card is supported by 1GB of dedicated video memory; making this a great choice for people with multimedia interests, including gamers.
It boasts great audio due to HP collaborated with legendary hip hop producer Dr Dre and audio hardware experts Beats to create a dedicated speaker system.
There is 500GB of hard drive to store photos, music and videos as well as any other documents.
A slot loading DVD-RW drive means that it is easy to back-up data.
It has a standard three USBs as well as VGA and HDMI video outputs for attaching to external monitors, although there is no VGA video out so will not be able to connect to some older monitors or televisions.
It also boasts a lit keyboard.
HP Envy 14 Specifications:
OS: Windows 7 Home Premium
Screen: 14.5-inch 1366×768
Processor: Intel 2.4GHz Core i5 450M
Graphics: ATi Mobility Radeon HD 5650
RAM: 4GB
Storage: 500GB
Connections: 3x USB, Esata, HDMI, Mini-DisplayPort, N Wi-Fi, gigabit ethernet, card reader, Bluetooth 2.1,
Optical drive: DVD-RW
Battery tested: 215 minutes
Dimensions: 237x356x28mm/2.5kg