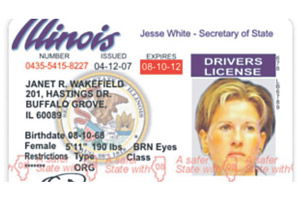 FOLLOWING on from EWN's article last week 'Police alerted as high-paid jobs may be New Year Scam', concerning an apparent fraudster trying to place adverts for seemingly bogus jobs, a new revelation has come to light. Our article centred on the inability of the advertiser, who called himself Warren Hiller, to provide acceptable identification and pay for his ads.
Three American driving licences were published in the piece, being the 'fake' proofs of identities provided by the fraudster.
An EWN reader, Stefan Schoener, contacted us, pointing out the cheeky, perhaps deliberate, error.
One of the fake driving licence photos shown was from Illinois, and of a Janet R. Wakefield.
Stefan's email couldn't have put things better. He said the woman in the photo "is Susan Klatten…. and she is Germany's richest woman."
We can now confirm that Mrs Wakefield does bear an uncanny resemblance to – ie she IS – the said Frau Klatten, who's Google image was used in the identification.
Only the background colour had been changed from the black of the Google image, to white for the apparent driving licence photo.
Why Hiller would use a Google image of the world's 35th richest woman and heiress to a billion euro fortune (thanks to her BMW inheritance), is a mystery.
This is not the first time Frau Klatten has been the target of unscrupulous criminals.
In 2009 she was the victim of a blackmail scam concerning the threatened publication of secretly filmed intimate videos of the heiress, where €9 million were paid to the blackmailers, and never recovered.
By Paul Deed
Read the first part of this story here: Police alerted as high paid job may be a scam