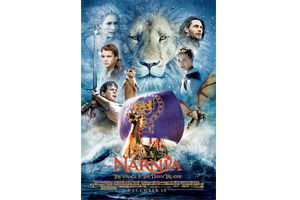 RETURN to the magic and wonder of C.S. Lewis' beloved world – via the fantastic Narnian ship, the Dawn Treader. In this new instalment of the blockbuster "The Chronicles of Narnia" motion picture franchise, Edmund and Lucy Pevensie join the new King of Narnia, Caspian in his quest to rescue seven lost lords to save Narnia from a corrupting evil that resides on a dark island.
As in the two previous editions, each character is tested, and this time, they journey to the home of the great lion Aslan at the far ends of the world. They find themselves swallowed into a painting and onto the Dawn Treader and are accompanied by a warrior mouse named Reepicheep.
Their mission — on which rests the fate of Narnia itself — takes the courageous voyagers to mysterious islands and a river that turns to gold, to fateful confrontations with magical creatures and sinister enemies and to a reunion with their friend and protector, the "Great Lion" Aslan.
They will meet Lilliandil the half-star and have to save Narnia from an "unfathomable fate", including a mysterious green mist coming from the Dark Island, which torments them. To get rid of the mist, the protagonists must locate the Seven Swords of the Seven Lords and lay them in Aslan's Table.
This is a classic adventure film and includes more exciting scenes than the previous two. It is well worth watching and will be enjoyed by all the family, especially fans of the novels.