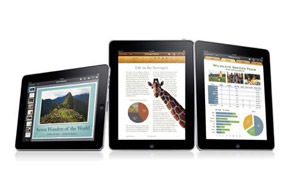 APPLE is already talking about iPad2, nearly six months after the pioneer iPad was launched. In October Apple announced that it had sold 4.2 million iPads, which was below Wall Street expectations of five million. However they expect next year's sales to reach 26 million due to the growing consumer enthusiasm for tablets.
Despite rumours that iPad2 would be ready before Christmas; it is more likely to be launched in the late spring 2011, coinciding with the launch of Blackberry's Playbook.
Predicted improvements to the new iPad include the installation of the same high-resolution screen seen on the iPhone4 and the addition of cameras on the front and back of the tablet for video calls using Apple's FaceTime software.
The screen size is expected to be reduced to 7-inches to compete with e-readers including Amazon's Kindle.