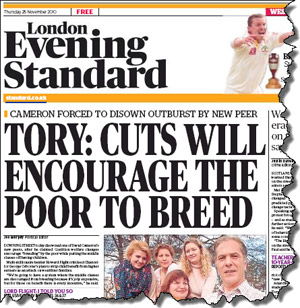 TORY peer Lord Flight recently had to retract his prediction that the British government's welfare changes "would encourage breeding amongst the poor." Despite echoes of the old parody "The rich get richer and the poor get children" it was doubtless expedient for Flight to apologise to his party – but for those of all political persuasions who unreservedly agreed with him, contrition was entirely superfluous.
The truth will out
THE contents of American diplomatic cables have shattered that carefully-tended public image which the United States, if few others, believed in. As it is, not many revelations came as a surprise or were out of character but the Wikileaks disclosures confirmed that just one computer hacker can cause as much harassment and humiliation by wounding pride and exposing artifice as any amount of armed conflict.
Spooks spiked
LIFE seldom imitates art so the real spooks were hoodwinked into paying hundreds of thousands of pounds to a shopkeeper posing as a Taliban leader to engage in peace talks with the Afghanistan government. The whole sorry episode is merely further proof that the West cannot broker peace, let alone keep it, in a country it has never understood and on its present showing, never will.