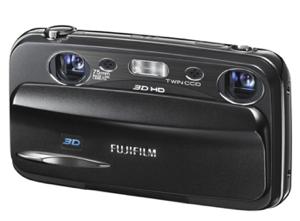 FUGIFILM has adapted to the influx of 3D gadgets into the market place by upgrading their W1, which came out over a year ago, to the Real 3D W3. It now has an HDMI output on the camera so that it will work with all 3D TV's. The 3D effect replicates the human eye with dual lenses a 10-megapixel Charge-Coupled Device (CCD).
The camera takes two images which are then combined in-camera to take a 3D picture. The W3 is smaller and lighter than the W1, but the screen size has increased from 2.8 inches to 3.5 and its resolution is better.
As with the W1, you can view your 3D images without using glasses. It is also possible to capture HD 3D Movies, although the zoom has to be adjusted prior to shooting.
Of course, it has the ability to take standard 2D images as well.