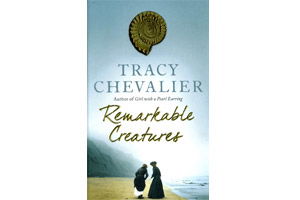 By Tracy Chevalier. Elizabeth Philpot and Mary Anning are on different rungs of the social ladder but are joined by their interest in fossils. Both live at Lyme Regis in the early 19th century and search for fossils on what is now known as the Jurassic Coast. Both suffer the condemnation of the town for being different.
They search the shore for specimens in all weathers, they take men, who share their interests, to the shore on fossil hunts, they speculate on the relationship between God and Creation and the presence of extinct animals. Not occupations for normal women. But they refuse to be deterred and eventually both gain recognition for their work in paleontology.
In this fascinating story Chevalier tackles the themes of Creation vs. science, class and women's place in society and their relationship to men.
That may sound heavy and dry, but Chevalier weaves these weighty themes into a page turning story so deftly so that the tale takes precedence over the themes. It is hard to imagine a time before Darwin's theories, when anyone who posited a theory that challenged the Bible was branded a heretic but here we are shown clearly what that was like. The new fossil discoveries force the scientists to question the received wisdom of the Bible and look at the world with fresh eyes.
The fact that women are involved in the new discoveries makes the ideas even more difficult to swallow!
This book, together with a round 2000 more, can be borrowed from the DENIA ENGLISH LENDING LIBRARY, Passeig del Saladar 91. Open Monday – Friday 10.00 – 1.00. For further information contact [email protected]