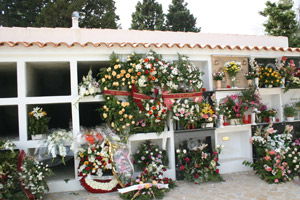 VERY late night phone calls or those of the pre-dawn type are always bad news. Not many corporations are going to call you at that unusual hour to inform you that you've just won the lottery. No. It is always bad news: a car breakdown, a hospital or Guardia informing you or asking if you know so and so, or even a car crash, or worse yet, a death.
So it was a few days back when Mr. Mojacar, Bob Jones, called me to break the unfortunate news that my old friend, Rosa, of the Puntazo had passed.
Rosa had been ill for a long time. Nevertheless, the final announcement is always a shock.
And Bob knows the heartbeat of the village having had a famous bar there for years. Now he lives quietly on the beach, rising with the sun to keep up with the news on his Facebook. Then he keeps the rest of us informed.
Mama Rosa was the grand matriarch of the beach.
Her brothers and sisters controlled the culinary habits and appetites of the entire initial beach population of Mojacar.
She ran the Puntazo. Her brother, Pedro, owned the Virgen del Mar. Her other brother, Francisco, was proprietor of the Flamenco. And her only sister, Antonia, opened the Africano across the road from the El Patio beach bar.
If you came to visit Mojacar long ago, there were those four restaurants on the beach and nothing else. If you came to the 'playa', you had to eat in one of those four places or go without. The food was always good and their company charming.
The Flores family encouraged thousands of returning visitors and looked after all of us residents.
Every local celebration or sadness took place with one of those four.  Weddings, baptisms, first communions, and wakes took in the lifetimes of so many.
Domino lessons were offered free of charge.  Artichokes were dipped into olive oil vinaigrette under a bare lightbulb hanging from the ceiling.
Her children were tutored in maths and reading in the bar because there was no school bus to the village and they had no car.
Rosa Flores Gallardo was born here in Mojacar in a cortijo in the hills behind Indalo Mountain and near La Parata.
Four of her children survive: Martin, Rosa, Pedro and Josefa along with nine nietos "grand children". She was 82 years of age.
2010 has been a catastrophic year for this grand family as all brothers and sisters have died within months of each other.
Just ten days before, Rosa´s beloved brother, Pedro, of the Virgen del Mar passed and now the two of them rest next to each other. A few niches away is Antonia  and Francisco. Now they all rest together.
It is still a shock for the grieving, remembering populace that shared so many times with them.
The family also owned most of the land near those restaurants and thousands of square meters back into the hills.
If one wanted to become a property developer back in the 60's, one had to buy from the Flores family. Everything they did went through Rosa. She was a formidable lady to deal with.
Sitting down and negotiating with her was similar to reading and learning the detailed business acumen of "What They Didn't Teach You At the Harvard School of Business".
This was no peasant lady to win over in a few clever and cute words. She knew the inherent value of the land.
She knew that if any of us was going to resell it, we had to pay a top price plus a surcharge to get the job done her way. It was that or leave it for the pigeons.
Any deal you came away with, you celebrated, shouting and screaming your triumph to the world.
She knew how to negotiate tougher, harder and longer than anyone I ever dealt with buying land locally.
And any money the Puntazo made, they poured back into their business to grow and adapt to the changing times. This showed great foresight and wisdom.
From being a small restaurant with a few rooms to rent, they are now in the hotel category and expanding all the time.
This year, when Mojacar's business association decided to celebrate a gala extravaganza, they chose the Puntazo.
Canapés and delicacies were served in no lesser quality than the Ritz in London. The chefs and their specialties, the fine wines and liquors, were ranked with the best served in Madrid.
This was a revelation when I recalled my first taste of lentils and garbanzos in the very same establishment.
During the developmental years our company celebrated roof raisings of each new house we built with a paella meal for the workers. During the construction, it seemed we never had more than four workers on the site.
Yet on paella day, the tables were packed with them, cousins and people that rode in on donkeys just to get fed. One could write a memorable best seller concerning some of the incidents that took place in one of the four places that started Mojacar's beach history.
Now, with the passing of Rosa, the last of the family, it all seems ages ago but never forgotten.
By Karen and Ric Polansky