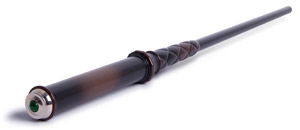 THE Kymera Magic Wand is a fun universal remote control, and not just for Harry Potter fans. In total there are 13 'magical functions' that can be designated for different actions with the television. For example to change channels flick the wand up or down, to turn the volume up or down make a clockwise motion, etc.
Other gestures that can be allocated include 'Big Swish', 'Push Forward', Pull Back' and two single and double taps.
The wand is taught which movement is for what function via the old button remote.
The wand falls asleep when not in use, but wakes up when picked-up or moved; it pulses with three 'heartbeats' and then is ready for action.