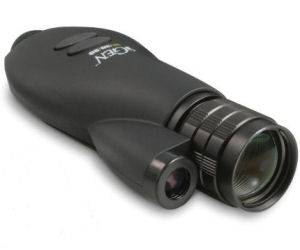 A GREAT gadget for hikers, campers, hunters or animal enthusiasts is the Night Vision Monocular. It allows images to be viewed at night as well as take digital photos of those images. Designed with an image-processing technology that is comparable to night vision devices in the US military, it is able to amplify ambient light up to 10,000 times.
It also automatically adjusts based on the amount of ambient light it detects, but can be adjusted manually too. The monocular features an adjustable eyepiece with 2.6x magnification.
Up to 400 images – of 510×490 resolution – can be stored on the 512MB SD card.