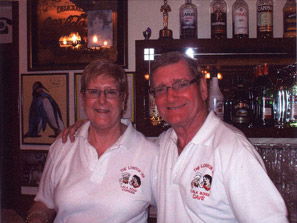 Dave and Doreen of The London Inn Cala Bona have hung their pumps up to dry and retiring this year, the doors close after last night. Dave and Doreen came to Mallorca in March 1988 and successfully ran the first London Inn bar in Cala Millor together with their son David.
It was one of the few bars to start live entertainment three nights a week with David singing and playing the guitar.
"Good food and entertainment improved each year with the help of great staff and other top class entertainers joining the team," Dave recalls.
After 10 years in Cala Millor Dave and Doreen moved to a larger location in Cala Bona now the present London Inn and over the past 13 years have enjoyed enormous success and have had some "fantastic and loyal staff and very talented entertainers" says Dave.
His son David is now a well known guitar vocalist on the island singing in the bar and hotels.
"On Wednesday we had a retirement get together with family and friends to mark the end of an era in Cala Bona. Over the years it has been very hard work, stressful, with good times and bad but most of all enjoyable and a lot of fun," says Dave.
Dave and Doreen say they have "met so many people, made lots of friends and would like to thank all of their loyal customers, fantastic entertainers and excellent staff for their support in making The London Inn place to be."