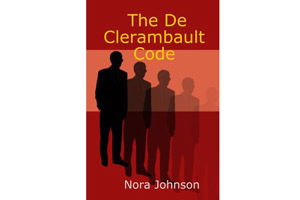 Laura Hill appears to have everything: a successful career, a group of close friends. Then suddenly, impulsively she embarks on a passionate relationship with a man whom she knows nothing about. Her life is overturned. But Sean Cazaly is more than he seems and his refusal to discuss his past holds more secrets than Laura can imagine.
She soon begins to realise that she is trapped in a world that threatens everything: her safety, her sanity and finally her life.
The De Clerambault Code delves deep into parts of the criminal, pathological mind where most authors are far too frightened to venture. Compelling from start to finish, it is about a relationship so intense and fraught with danger and at the same time so seductive and all-encompassing that it eclipses every normal, workaday aspect of life. It fully engages the reader of both sexes in the loneliness, isolation and paranoia of what it is to be involved in such an obsessive relationship.
The De Clerambault Code is a complex psychological thriller packed with suspense and a plot that twists and turns like an octopus. Its themes deal not only with the nature of obsessive delusional behaviour, violence and death but also the problem of human trafficking and adolescent thugs.
The tension builds up with inexorable detail to an astonishing climax in this compulsively readable, intelligent thriller where suspense is ratcheted up cruelly right until the final pages.
The De Clerambault Code (www.nora-johnson.com) available at Amazon. Profits to Cudeca.