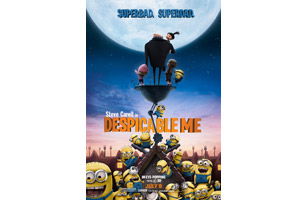 Despicable Me is an American computer-animated comedy film from Universal Pictures and Illumination Entertainment. The films stars the voice talents of Steve Carell, Jason Segel, Russell Brand, Julie Andrews, Will Arnett, Kristen Wiig, and Miranda Cosgrove. In a happy suburban neighbourhood surrounded by white picket fences with flowering rose bushes, sits a black house with a dead lawn.
Unbeknownst to neighbours, hidden beneath this home is a vast secret hideout. Surrounded by a small army of Minions (which are tiny yellow pill-shaped creatures in overalls and goggles), we discover Gru, a supervillain with a difference, who is busy planning the biggest heist in the history of the world just because his ego has been seriously hurt by a younger and more daring villain, Vector.
But Gru has the perfect plan, he is going to steal the moon! Gru delights in all things wicked; he vanquishes all who stand in his way. Until the day he encounters the immense will of three little orphaned girls who look at him and see something that no one else has ever seen: a potential Dad.
Gru finally beats Vector in getting to the moon, shrinks it and brings it back with him, finding that he can get to the girls' ballet recital in time. However, by the time he gets there, he finds it is over and in the seat that was reserved for him, he finds a note from vector demanding the moon in exchange for the girls.
Gru hands over the moon but Vector goes back on his side of the deal and escapes with the girls with Gru close on his trail…