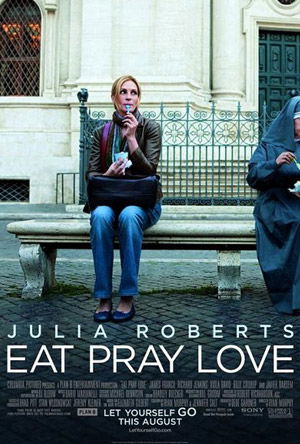 Directed by Ryan Murphy. Starring Julia Roberts, Billy Crudup, Javier Bardem, Viola Davis. Liz Gilbert had everything a modern woman is supposed to dream of having — a husband, a house, a successful career — yet like so many others, she found herself lost, confused, and searching for what she really wanted in life. While trying to get pregnant, she realises that her seemingly happy life is not exactly what she wants.
Newly divorced and at a crossroads, Gilbert steps out of her comfort zone, risking everything to change her life, embarking on a journey around the world that becomes a quest for self-discovery. In her travels, she discovers the true pleasure of nourishment by eating in Italy; the power of prayer in India, and, finally and unexpectedly, the inner peace and balance of true love in Bali.
"Eat Pray Love'' is based on Elizabeth Gilbert's hit 2006 memoir about the trip she took to Italy, India, and Bali after her marriage ended. Both the film and the book have received very divided and extreme reviews. For some, it is a beautiful voyage of self-discovery, while for others it is simply the narcissistic story of a woman who is self-centred and whose husband is better off without her.
It is a simply film, with some worthwhile shots of the different locations where it is film, and runs a bit like a travel-programme with the difference that a large part of the audience, numbed by the repetitiousness of the film, end up in a state of semi-hypnosis.