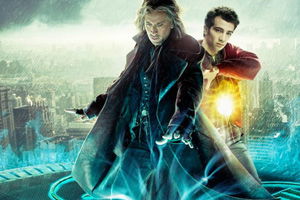 BALTHAZAR BLAKE (Nicolas Cage) is a master sorcerer in modern-day Manhattan trying to defend the city from his arch-nemesis, Maxim Horvath (Alfred Molina). Balthazar can't do it alone, so he recruits Dave Stutler (Jay Baruchel), a seemingly average guy who demonstrates hidden potential, as his reluctant protégé.
The sorcerer gives his unwilling accomplice a crash course in the art and science of magic, and together, these unlikely partners work to stop the forces of darkness. It'll take all the courage Dave can muster to survive his training, save the city and get the girl as he becomes "The Sorcerer's Apprentice."
Walt Disney Studios, producer Jerry Bruckheimer and director Jon Turteltaub, the creators of the National Treasure franchise, present and innovative and epic comedy adventure about a sorcerer and his hapless apprentice who are swept into the centre of an ancient conflict between good and evil.
Parts of the story are loosely based on the Sorcerer's Apprentice segment in Disney's Fantasia (with one scene being an extensive reference to it), which in turn is based on the late 1890s symphonic poem by Paul Dukas and the 1797 Johann Wolfgang von Goethe ballad.
This film was released amidst a great amount of hype, but as always with Nicolas Cage, a great range of emotions from him cannot be expected and many other actors could have given the role more feeling, which would have greatly improved the whole production.
However, it is full of very impressive special effects, and generally just the right amounts of love, humour, action and 'good versus evil' topics.