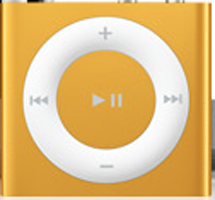 THE iPod Shuffle is coming out with its fourth generation slimmer but more vamped up with new features.
The button design is reverting back to the second generation model, just a fifth bigger, but keeping the VoiceOver feature of the third generation.
At just 12.5g, it can clip on easily to a sleeve or short pocket, to provide 2GB of music while exercising, and the battery lasts for up to 14 hours of continuous play before it needs to be recharged.