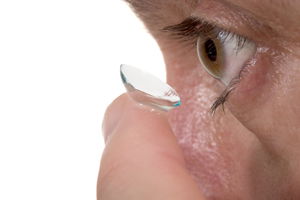 TECHNOLOGY is advancing at an ever increasing rate and many are predicting the future gadgets that should soon be available; including Augmented Reality (AR) Contact Lenses.
They will have minuscule nano-circuitry implanted into them which will allow users to experience an 'enhanced reality'.
Information will appear right in front of you as opposed to on a screen as it is currently.
A motion-sensing ring will track your finger's spatial position allowing you to interact with what is shown through the lenses, with an earpiece for audio and pulse monitoring.
Ideal for having your own personal electronic trainer or running on your treadmill while seeming to be in nature or racing against a celebrity.
When travelling, you could bring up maps and places of interest to help you find your way around.
Perhaps there will even be action scenes that could be overlaid in historical sites like the Coliseum in Rome.
Nanotechnology advances could allow small enough image sensors to be imbedded in the lenses, which would turn them into a camcorder and camera, which when combined with the motion sensing rings on fingers would allow you to capture the shots and scenes.