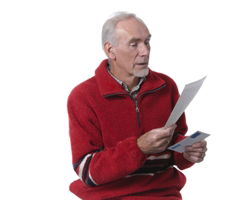 A CANADIAN friend was recently hit by an e-mail fraud that saw hundreds of her family, contacts and friends like me receive requests for money so she could return from London where she'd been "mugged". All lies. Well, call me a cynic but this got me thinking about all the other scams doing the rounds that are so ruthless they make the Wild West look like a Swiss Finishing School.
For a start, there are all those nice Nigerians who have identified you as the only surviving heir of recently deceased oligarch, Mwambutsa. And what about those Save The Children orphanage funds you've been implored to take care of. Not to mention that nice North Korean general who'd like you to look after $5,000,000 until he can defect to the West. Or the Greek National Lottery you've won although you've never bought a ticket in your life. Or all that phishing scam-email you've just received following the latest HMRC tax blunder.
Known as 419 Fraud, after the section of the Nigerian penal code that outlaws these "advance fee" scams (the advance fees are the sums you pay upfront to "free" the big cash "promised"), this particular one generates millions of pounds each year. According to the British National Criminal Intelligence Service, the average loss in the UK alone is £35,000 per scam.
The "help I'm stuck, send money" scam used on my friend is just another mutation of the original "we've got some money stuck, help get it out" version but the language used in any of them wouldn't fool the average slow 2-year-old:
"I trust we find you Well Sir, and we ask You to be of service to us in your Ways. My Uncle King Letsie IV of Limpopo, recently died, and his Relative Lawd Mswati need to transfer Money from the Windsor Trust, to other bank Account. He ask my help in finding Reliable Business Partner who seem able to Write, and has good Contact with the Criminal world – but only so he understand scam and so not get Caught. As a gesture of gratitude, he At Once transfer money to your Account Upon receipt Sir of your Bank Details…"
Recently, however, scam-baiting – anti-scammers replying to the emails, stringing the con-artists along and turning the tables completely and getting the gangs to send them money – has become increasingly popular with more than 150 websites chronicling the hilarious results. One includes letters where the anti-scammer poses as a terrorist by the name of "Princess Tikka Masala", a Chinese restaurateur called "Hu Flung Dung" and a retired mariner called "John Silver".
Poor scammers! Maybe they now need our help. Please send your generous donations to: The Twilight Home For Distressed Scammers. I sory for enny inconveeniens.
Nora Johnson's novel, The De Clerambault Code (www.nora-johnson.com) available at Amazon. Profits to Cudeca