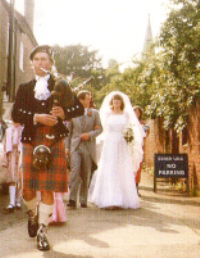 Musician and Playa Puerto Rey resident, David Weir, has been honoured by being asked to play for the Spanish Foreign Legion on Sunday September 19 to help celebrate their 80 anniversary held in a free concert at the auditorium Maestro Padilla.
General Francisco Javier Verela Salas is from Galicia, another region that enjoys the bagpipes and thought it would be nice to have some of his own home music for such a special occasion.
David is both surprised and "feels honoured to take part in such a prestigious event." In the past David has been accustomed to playing weddings, birthdays and funerals so this will be a welcomed change. Formal dress is suggested.
David Weir, born in Dundee, Scotland has piped for more than sixty years. He is a retired dentist and his wife, Anna Finau, was the former lady in waiting to Princess Pilolevu, granddaughter of the late Queen Salote of the Tonga.
Amongst others he has graced American singer Shirley Bassey, some of the Khashoggi family and of course the entire High Commission of the Tonga with his performances.
David's family is musical, his brother a double PH D in America and his youngest daughter, Linley, a gifted Jazz musician that very likely will be singing in some of Mojacar's the beach bars for fun in October after her scheduled appearance at the Callender Jazz Festival.