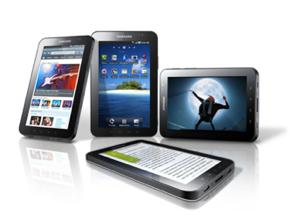 THE long awaited Samsung Galaxy Tab, which is a tablet and phone, was unveiled at the IFA tech show in Berlin.
Touted as the contender for the iPad, it is also capable of making and receiving voice and video calls, as well as SMS/MMS/Email.
It uses Android 2.2 technology and has a 7-inch high density screen.
It is also a fully functioning E-reader with the 'Readers Hub' where thousands of books and magazines can be downloaded.
The 'Music Hub' is the 'iTunes' equivalent were music can be downloaded straight to the tabs 16GB or 32GB internal memory.
On top of all this it also has a 3MP camera with LED Flash and a front-facing VGA camera for voice calls.
Not to mention it comes with Google Navigation, Google Goggles (which lets you use pictures taken with your mobile phone to search the web) and Places using the built-in GPS.
This tablet can be used for both work and play, as it has also includes full Office documents that are compatible with PC-style email as well as a 'Social Hub' for the various social networks, that can be integrated into your Calender.
All of these features are packed into just 380g and 11.4mm thin.