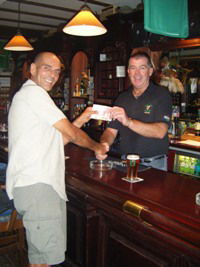 For a genuine Irish experience a visit to Fanny Lee's on Mojacar Playa is not to be missed. Owned by Irish born & bred Declan Tobin and managed by fellow Irishman Mike Gibney this really is a genuine  piece of Ireland in Mojacar.
Declan had always dreamt of bringing a little bit of Ireland to Spain and 5 years ago that dream came true when the current premises became available, and he was able to buy it and bring the pub over from Ireland and into Mojacar, giving it the authentic Irish feel. The name itself originates from a favourite bar of Declans that he frequented whilst travelling around Australia called Fanny O'Dees and the name of his great, great Aunt Fanny Lee , hence he had no hesitation on the name of the bar!!
When you first visit Fanny Lee's you will be amazed and intrigued by the amount of interesting items seen, from the wooden floors and tables made of beers barrels, the numerous Irish football shirts and memorabilia, hats & scarf's and photo's of many a happy night spent in manager Mikes company it really is like taking a step back in time and the atmosphere is contagious and not only experienced by Irish and Brits alone but also loved by the Spanish as many who frequent the bar studied in Ireland  and not only got a great education but they got a taste for the Guinness as well!! You will also notice on the bar a collection of coins, this is the Maiden Tower again a little piece of Ireland and Mikes idea of raising money for the local orphanage in Vera, so any spare change you have is placed on the already half built tower and once it is complete will be handed over to the orphanage.
As you would expect from the always friendly Irish a warm welcome and a long, cool glass of Guinness will be awaiting you, but if Guinness is not your preferred choice you will be spoilt for choice with Murphy's Red, Cider, Amstar, Heineken on draught and numerous different bottled beers, wine and a whole host of spirits ensuring every face will be a happy face.
If all of this wasn't enough to have you getting out of your arm chairs and racing along to pay Mike a visit, bear in mind that a bit of "The luck of the Irish" may well rub off on you when you do as it did for Chris Crosby of Vera Playa who won 1st prize of 110€ & Brian Hickey of Mojacar who won 2nd prize of 50€  in The World Cup Draw that was held back in June & July.
Fanny Lee's also shows all Irish rugby, football & Premiership games on his extra large screens, bingo on a Thursday & live music to suit all tastes on a Friday & Saturday night and not forgetting the count down to Fanny Lee's X Factor at the end of this month with large cash prizes on offer you need to get your application form now (see advert on page….for more details)
Find Fanny Lee's on Mojacar Playa, near the Cajamar bank & Hotel Sol Marina. Open Mon – Fri 5pm-late and weekends 1pm-late.
So come along and enjoy the craic