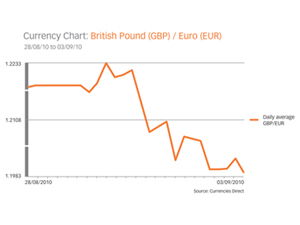 Well this week if you are in the US you will have been celebrating Labour Day which is traditionally end to the summer holiday period and a time when the "real money" returns to the global markets. The big question is how the markets will pan out as we head into the end of the year. Friday's much anticipated jobs number out of the US satisfied both the pessimists and optimists.
Optimists will point to fewer jobs being lost than expected, pessimist's will point to the fact that at the current rate of recovery it will take at least 5 years for the US to get back to the kind of growth that would signal a healthy, functioning economy. The equity markets have staged an impressive 5% growth during the period May to August compared to a historical average of 1%, however volumes are down 31%, a bit like walking on a sheet of ice that is steadily getting thinner and thinner.
Just to complicate matters even more, we have the mid term elections in November, and it's widely expected that President Obama will get trounced and will become a lame duck president for the rest of his tenure, not something the world's largest economy exactly needs right now.
In the UK, October sees the comprehensive spending review that will lead to the start of budget cuts and job losses that will be needed to bring down the UK's structural deficit. Mr Osborne has pledged to reduce this by % during the coalition's parliamentary term.
The data out of the Eurozone over the summer period has been a two-tier story. Germany and France have seen great numbers if taken at face value, but the rest of the Eurozone is still mired in a de-leveraging phase that could take generations to work through. For example Spanish unemployment as measured between the ages 18-24 is running at 40%. On the back of this the problems for the Eurozone are far from over.
However, the optimists still paint the picture that the world is improving, which to a point it is, but it is very specific and the next six months that will take us to Q1 2011 will once again see the global economy face a series of head winds and challenges, and the answer most central banks will take will be to embark on another series of quantitative easing, something that so far has keep interest rates low but has not seen the growth the market expected.
The markets are back and summer is finally over.
Please feel free to contact me at [email protected] and I will reply to all your questions promptly.
Visit us in our Spanish offices in Costa del Sol, Costa Almeria, S. Costa Blanca and N. Costa Blanca
902 310 444 • Email: [email protected] • www.currenciesdirect.com