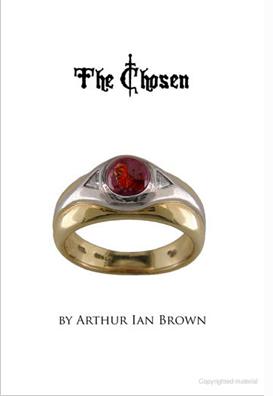 The Chosen by Arthur Ian Brown.
If you enjoy mystery stories with a dollop of evil thrown in for good measure, this is the one for you. It is only a short story, which can be read in one sitting, but mainly because it is intriguing and you just have to find out who the owner of the severed hand is, and what was the significance of the ruby ring on one of the fingers.
The author does not feel it necessary to fill the pages up with trivia, but gets straight to the heart of the tale at a good pace. I could name many authors, who, with a lot of 'padding' would have turned this excellent storyline into a lengthy novel.
The Chosen are all women. Have they any connection to the several disappearances which have taken place over the years in and around this quaint little Cornish fishing village? This is a problem which has been troubling the police. Detective MacEnroy, in charge, is a steady, thorough investigator, determined to get to the bottom of these crimes.
Unlike many, I never read the end of the book, and I would ask those of you who normally peep at the ending, not to do so, because the author has gone to great pains to let this tale unfold naturally. I am sure you will enjoy the treat he has in store for us with the ending…
Book Review by June Arch