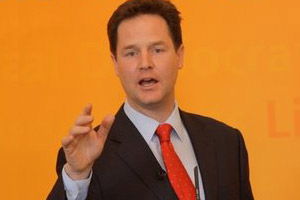 NICK CLEGG'S declaration during Prime Minister's questions that the Iraq war was illegal only echoes what its opponents said before and after March 2003.after March 2003.
That Lib-Dem Clegg dubbed it illegal during Prime Minister's questions produced hissy fits in Tory and Labour ranks and could have been a gaffe, as critics claim. Or, as an absent Cameron courted Obama in Washington, a long-awaited opportunity.
Don't cherchez la femme
IN the Vatican's book – no longer a best-seller despite its often scurrilous contents – female ordination is a crime comparable to paedophilia.
It was already insulting for a institution which preaches celibacy but does not consistently practise it to instruct the non-celibate on sex but the Vatican's latest attempt to combat progress merely reveals its incurable fear and dislike of women.
Oil on troubled waters
AS BP's leaking oil well in the Gulf of Mexico was apparently capped last week the American owners of the Deepwater Horizon drilling platform claimed the failed blowout preventer was modified in China at BP's behest to save money.
Cheapest is never best but this particular buck will clearly be passed non-stop until it finally comes to rest at BP's door.
Photo Credit: European Elections Launch 2009