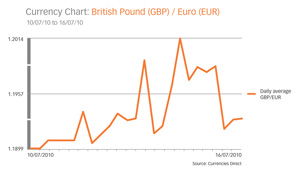 Sterling has done its best to hold form above the 1.18 level before Friday's close, but the slide from 1.20 over the last 12 hours is symptomatic of a market uncertain about the worth of imminent stress tests, and the long term implications of European regulatory changes such as the Alternative Investment Fund Management directive.
Germany and France have adopted something of a 'dog in the manger' attitude, and seem willing to risk the movement of key fund and asset management services to the Far East in order to provide a more even European playing field. Measures like the AIFMD will have a negative effect on European and London based trading, and wealthy tax payers will leave the EEA and UK for softer structures off shore in countries like Singapore and Hong Kong.
Key figures in the banking sector have firmly stated that the upcoming 'stress tests' will not, if weathered, signify a clean bill or health; and issues such as deflation, high levels of government debt and a spike in investment interest rates because of said sovereign liabilities still plague the markets and undermine confidence.
Sterling has settled to the 1.18 level, and this was to be expected after such a frantic rally following the May election and the Budget in June. 1.20 is still achievable, but with lukewarm economic data it will be difficult for us to find support above this key level in the coming weeks.
Please feel free to contact me at [email protected] and I will reply to all your questions promptly.
Visit us in our Spanish offices in Costa del Sol, Costa Almeria, S. Costa Blanca and N. Costa Blanca
Telephone: UK 0845 130 8148 • SPAIN 902 310 444 • Email: [email protected] • www.currenciesdirect.com