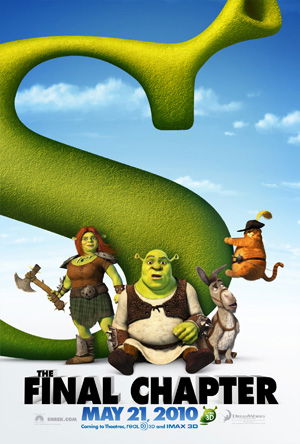 AFTER challenging an evil dragon, rescuing a beautiful princess and saving your in-laws' kingdom, what's an ogre to do? Well, if you're Shrek, you suddenly wind up a domesticated family man. Instead of scaring villagers away like he used to, a reluctant Shrek now agrees to autograph pitch forks. What's happened to this ogre's roar? Longing for the days when he felt like a "real ogre," Shrek is duped into signing a pact with the smooth-talking dealmaker, Rumpelstiltskin.
Shrek suddenly finds himself in a twisted, alternate version of Far Far Away, where ogres are hunted, Rumpelstiltskin is king and Shrek and Fiona have never met. Even his best friend Donkey has no idea who he is. Now, it's up to Shrek to undo all he's done in the hopes of saving his friends, restoring his world and reclaiming his one True Love.
Shrek Forever After is the fourth, and supposedly final, installment in the story of the beloved green ogre voiced by Mike Myers. It takes us back to the form of the first two films, although it is a lot more moving, with Shrek and Fiona's love story being the main storyline.
Eddie Murphy, Cameron Diaz and Antonio Banderas, whose Puss in Boots has become a fat cat in more ways than one, all bring their voice talents to this new installment which will be enjoyed by all Shrek fans, young and old. What is sadly missing from the latest Shrek movie are the pop culture references which were one of the most humorous parts of the previous films.