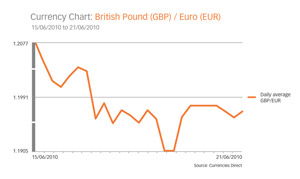 The Euro's attempt to push back below 1.20 to the pound can be interpreted in a number of ways, however, the short selling frenzy surrounding the European sovereign debt fiasco, and the markets anticipation of the UK emergency budget, can be identified as two keys areas that have corrected in favour of the sterling buyer.
Short selling by default requires traders to buy back once they believe a currency has run its course. A lower profile for Greece and Spain, along with Germanys ban on short selling have now seen a euro buy back. This has allowed the euro to play on a correction lower for economic growth forecasts for the UK economy. The 22nd of June emergency budget will make interesting reading.
The market will either acknowledge that Chancellor Osborne is tackling our debt issues head on, and applaud him by buying into UK plc. Or we could be sidelined as economic area struggling to generate sustainable improvement in manufacturing, retail and private sector investment. Sterling could be tested and a loss to the 1.18 levels is not unlikely.
Please feel free to contact me at [email protected] and I will reply to all your questions promptly.
Visit us in our Spanish offices in Costa del Sol, Costa Almeria, S. Costa Blanca and N. Costa Blanca
Telephone: UK 0845 130 8148 • SPAIN 902 310 444 • Email: [email protected] • www.currenciesdirect.com