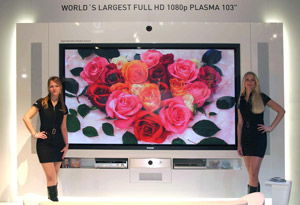 JAPANESE electronics manufacturer Panasonic is taking plasma HDTVs to the next level with a whopping 152-inch screen. For a perfectly smooth experience in 2D as well as 3D the TH-152UX1 full HD 3D plasma television supports a massive 4,096 x 2,160 resolution, even for old movies recorded at 24 frames per second.
Panasonic has neglected to mention a price for this new piece of home entertainment equipment. But without any doubt, we can say prices will be steep. The smaller 103- and 85-inch models cost 54,000 and 37,000 euros respectively.
Potential buyers will have to show patience until January 2011.