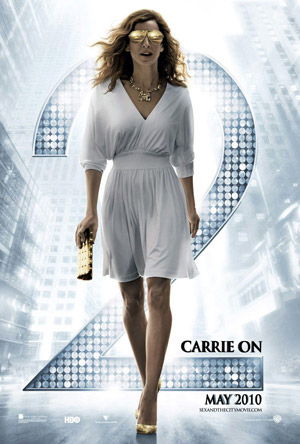 CARRIE, Samantha, Charlotte and Miranda take another bite out of the Big Apple in the sequel to the 2008 blockbuster.
Returning in their starring roles, as the four great friends are Sarah Jessica Parker, Kim Cattrall, Kristin Davis and Cynthia Nixon. Of course, where would these women be without their men? Also back for the sequel are Chris Noth as Mr. Big, David Eigenberg as Steve, Evan Handler as Harry, Jason Lewis as Smith, Mario Cantone as Anthony and Willie Garson as Stanford Blatch.
Charlotte, despite the aid of a full-time nanny and a housekeeper, is overwhelmed by the demands of being a stay-at-home mom with two children, while high-powered executive Miranda is too busy at work to attend her genius second-grader's science fair.
Superstar publicist Samantha, is going through menopause, swallowing pills to boost her sex drive and Carrie, two years into her marriage with Mr. Big, is frustrated that her husband prefers to stay at home rather than show her off.
The 'girls' go on a trip to Abu Dhabi to boost their energy, one of the few places on earth where they can find the luxury they are accustomed to. Before this, there is a gay wedding and an appearance by Liza Minnelli, which really only seem to have been included for the obvious gags they lead to. The film is full of terrible puns and gives the impression that all women are interested in, despite the economic crisis, is sex and shopping. Perhaps the worst choice was a scene where Samantha stands in the middle of a busy square offering sex, while the Moslem call to prayer can be heard.