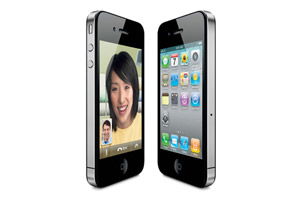 APPLE founder Steve Jobs revealed the newest generation iPhone at the Worldwide Developer Forum in California. The new iPhone will come with a faster CPU and better video support. The touch screen has a higher resolution (960×640). A second microphone is used for 'noise cancellation', which helps while talking in a noisy environment.
A camera on the front side should allow video conversations via FaceTime. For the camera on the back (5MP) Apple added a LED flash. The metal frame works as an antenna. The 1GHz CPU is the same as in the iPad tablet pc and makes the smartphone run on the iOS 4 operating system.
Apple claims the larger battery increases standby time with 40 per cent, to 300 hours or more than twelve days.