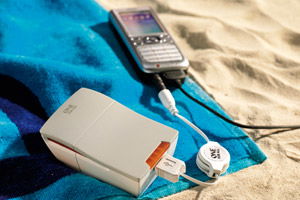 ONE FOR ALL has launched four gadgets that enable you to keep all your portable devices charged, wherever you are. We rely these days on an ever-widening array of mobile gizmos but how often do you find you've run out of charge just at the crucial moment? The new charging solutions range from One For All means you need never be without power when out and about.
The Universal in-Car Charger (21 euros approx) turns your car cigarette lighter into a charging station and works with mobile phones, MP3 players, PDAs, digital cameras, sat nav, game players and other devices. Seven interchangeable tips are included in the pack for iPod/iPhone, Nokia, Sony Ericsson, MiniUSB (5 pin), LG, Samsung and MicroUSB.
The Universal in-Car Power Socket (48 euros) turns the cigarette lighter into a 220V mains power point – so you can safely charge anything from laptops and cordless drills to portable DVD players and hair straighteners when on the move. It also protects your car and the device against overload and under/over voltage.
The Universal Travel Charger (24 euros) uses the same 'seven tip' system for charging the vast majority of portable devices. Two power plugs (UK and EU) are included so there's no need to take multiple chargers and adaptors with you when travelling across Europe – making it a much more cost-effective solution for charging your gadgets. Connection is via a USB plug.
And the Universal Travel Power Pack (36 euros) means you can keep your devices charged even when no power sockets are available – on a train or plane, or at the beach. It features a 1050 mAh battery which, once pre-charged via the UK or EU adaptor, gives up to 100 hours of extra power (standby time) when you're on the move anywhere in Europe. A battery indicator tells you how much power is left.