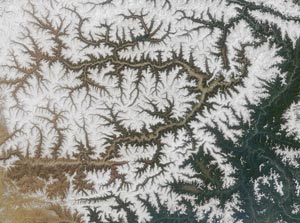 CHINA wants to produce vast amounts of electricity by damming the Yarlung Tsangpo river in the Himalayas although both India and Bangladesh need the river for water and power. China says it would save 200 million tons of carbon dioxide annually, but this environmental concern merely masks the need to feed an insatiable appetite for energy, whatever the cost to others.
Powers of detection
THE Cameron-Clegg coalition's Great Repeal Bill already has a heroic ring to it and will unquestionably perform heroically if it can free Britain from its Nanny State shackles. But why applaud restricting the DNA database? Keeping DNA records of guilty and innocent alike is a better safeguard of freedom than chaotic IT systems and the bumbling involvement of inept bureaucrats.
Be prepared
US secretary of State, Hillary Clinton said the world has a duty to respond to North Korea's alleged torpedoing of a South Korean warship. Pyongyang denies responsibility but is preparing for war if its neighbour attacks, although neither side is believed to want military action. And neither, with Afghanistan and Iraq to contend with, does anyone else except, possibly, Hillary Clinton.