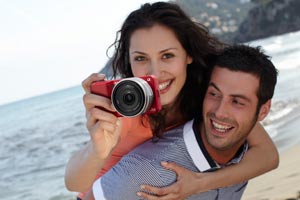 Sony's compact, easy to use NEX-5 and NEX-3 with interchangeable lenses and HD video.
Now photographers can enjoy the superlative picture quality and shooting responses prized by DSLR users in two beautifully compact new cameras that are brilliantly easy to use.
The NEX-5 and NEX-3 team DSLR-quality imaging with the convenience of interchangeable lenses in a sleek new design that slips easily into a jacket pocket or bag. In contrast with conventional DSLR models, the 'mirrorless' construction shrinks the thickness of both cameras to just 24.2mm (NEX-5 excluding grip and mount) and 25.4mm (NEX-3, excluding grip and mount) at their slimmest point. As a luxurious extra refinement, the NEX-5 features a tough yet light-weight magnesium body, making it the world's smallest and lightest interchangeable lens digital camera.
At the heart of both cameras is a newly-developed Exmor™ APS HD CMOS sensor with a resolution of 14.2 effective megapixels. Far larger than the sensor inside conventional compact cameras, its key to the extremely low image noise and creative defocus effects that are familiar to DSLR users.
An elegant interface – featuring a new 'never get lost' menu – makes the creative possibilities of the NEX-5 and NEX-3 accessible to enthusiasts and step-up users alike. Shooting parameters are easily accessed via an intuitive control wheel and two soft keys. Turning the control dial, for example, allows depth of focus changes to be previewed 'live' on the LCD3, giving effortless control over beautiful, pro-style portraits. Further help for novice users is provided by on-screen shooting tips and a friendly help guide.
Images and camera settings are displayed on the big, bright 7.5cm (3"), Xtra Fine LCD with TruBlack technology that tilts up or down for comfortable viewing in any shooting position. The screen features an auto-brightness function for excellent visibility, even when you're outdoors. TruBlack screen technology enables an even more vivid, high-contrast view of images and camera settings.
Compatibility with a wide range of interchangeable lenses dramatically expands the artistic possibilities of the E-mount camera system.
The NEX-5 and NEX-3 are also the first cameras to offer the extra convenience of HD video recording. At the touch of a dedicated Movie REC button, both NEX-5 and the NEX-3 shoots HD video with stereo sound as compact MPEG4 files that are ideal for PC storage and web sharing. Full HD (1920 x 1080i) video captured by the NEX-5 as high-quality AVCHD files can be enjoyed on a connected HD television. As an option, the smart accessory terminal on both cameras accepts the compact ECM-SST1 Stereo Microphone (optional) that captures a high-quality soundtrack for your HD videos.
The NEX-5 and NEX-3 are the first cameras featuring Sweep Panorama. Just press the shutter button and swing the camera side-to-side or up and down. A high-speed burst of frames is stitched together automatically to create detail-packed 23 megapixel panoramas with a 226 degree effective angle of view.
The NEX-5 and NEX-3 system cameras from Sony are available from summer 2010.