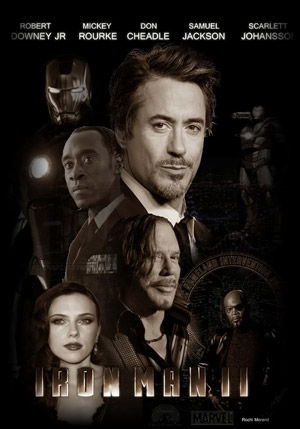 In "Iron Man 2," the world is aware that billionaire inventor Tony Stark is the armoured Super Hero Iron Man.
Under pressure from the government, the press and the public to share his technology with the military, Tony is unwilling to divulge the secrets behind the Iron Man armour because he fears the information will slip into the wrong hands. He must figure out a way to stop the use of the Iron Man suit from killing him while facing a new threat from an electric-whip-wielding Russian scientist with a mean streak.
With Pepper Potts and James "Rhodey" Rhodes at his side, Tony forges new alliances and confronts powerful new forces.
Robert Downey Jr.'s performance is once again great as Tony Stark and he seems comfortable playing the part of a superhero. Sam Rockwell is hilarious as Justin Hammer, one of Stark's competitors, and a black-leather-clad Scarlett Johansson, plays Natasha "Black Widow" Romanoff. Don Cheadle is good as James "War Machine" Rhodes, but it would have been better to maintain the original cast.
The film has some great action and special effects, there is plenty of energy and some impressive fight scenes which will get you sitting up in your seat. There is also a lot of humour in the film, especially from the hand of Robert Downey Jr, and Mickey Rourke, despite a bad Russian accent and an even worse hair-do still gets into the part pretty well.
Director Jon Favreau did a great job on the sequel, but Justin Theroux's story has a rushed ending which leaves you feeling like there is something missing. It's not going to win any Oscars, but it's certainly entertaining and is a fun adaptation of a long-time favourite.